Climate
Taking action for good
Our mission
At the Cheviot Learning Trust, we recognise that action is required to address the climate crisis
We recognise the importance of science and evidence.
Reports published by the Intergovernmental Panel on Climate Change and the UK Committee on Climate Change describe the enormous harm that a 2°C average rise in global temperatures is likely to cause.
The impacts of the climate crisis are already impacting on the everyday lives of people around the world, including in the UK.
We all have a duty to act, The UK government and other bodies have already passed 'Climate Change motions'. It is incumbent upon us to influence decision makers to bring about change. In particular, we should influence others within the educational world.
Our Response
"We need to make sure our planet is liveable for future generations." In this video, Paul Carvin, Chair of the Board, speaks about how our Trust and schools are going to help address the Climate Crisis...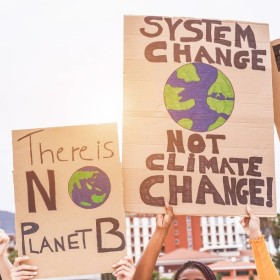 There's no planet B
The young people are our future and schools need to empower them so that as citizens of the world they have the knowledge and skills to overcome the consequences of the climate crisis. Strong policies and actions to cut emissions and reduce the impact of the climate crisis also have associated health, social, wellbeing and economic benefits which will benefit individuals and bring about a fairer and better society.
We will involve young people in all aspects of this work and give them the knowledge and agency to take the lead whenever possible.
We will ensure that curriculum opportunities and learning and teaching strategies across the Learning Trust address the climate crisis fully and in an appropriate way.
We will speak about our efforts to combat the climate crisis in a positive and informed way and will network with others, taking a lead where necessary, to highlight the dangers we face, plan for the future and press for people and government to act.
We will consider how we can reduce our impact on the climate through our strategic planning and do all that we can in our day to day work to reduce our impact on the environment and the climate as well as mitigating for the effects of climate change.